Meet The Team
Keith Construction has a combined 200+ years of experience on our team. That's what makes us the Vernon home builder that brings the highest level of professionalism and expertise to your project. Meet the people who continually strive for excellence and keep us proud of what we offer our clients and our community. Call us today and discuss your home construction or renovation dream.
Book a Consultation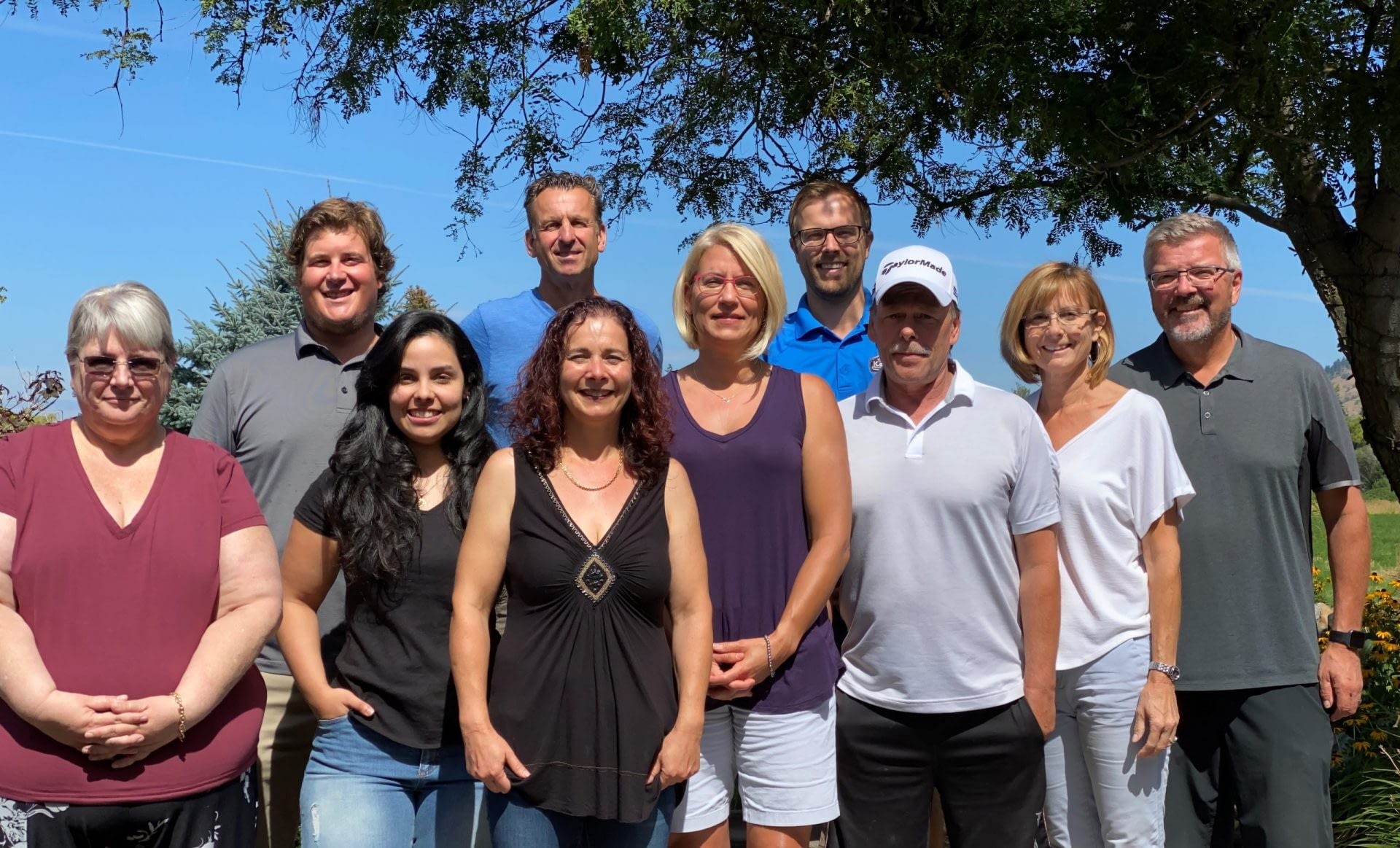 KEN DAHLEN
Owner
Ken has been in the building industry for over thirty years learning from his father Keith.  Ken took over the operation of Keith Construction in 1998 when his father retired. Since then, Ken has built the business up to a point where Keith Construction is known to be a first class builder and renovator with a reputation for excellent quality and service. Ken oversees the entire business, guides and approves the quoting process, and removes obstacles for the facilitation of a smooth and successful construction process. In December 2016, Ken completed all of the courses necessary to obtain the designation of Master Residential Builder by the Canadian Home Builders Association. He is one of a few  Master Builders in the province.  As well, Ken is a Certified Renovation Professional as of  March 2007.
Ken is so thankful to live in the Okanagan area with so many amazing lakes, skiing and camping possibilities.  He is happy to continue the legacy of his dad, Keith, work  with his wife, Karen and his son, Bryce who is the third generation in the Keith Construction family business.
KAREN DAHLEN
Owner/Financial Manager
Karen has a master's degree in education and has been with Keith Construction for nearly 25 years. Karen is no longer teaching in order to manage all financial operations in the company. She is also responsible for the management of the website, awards and all other marketing.  Karen loves walking her dogs and is enjoying learning to paint and golf with her very patient and supportive husband Ken!
BRYCE DAHLEN
Project Manager
Bryce holds a Professional Engineering Degree in Integrated Engineering (Civil, Electrical, Mechanical and Chemical Engineering) from UBC.  He has experience with PCL in Vancouver on  large commercial projects and now is responsible for the successful scheduling, execution, monitoring and quality control of new home construction and renovation work for Keith Construction.
Bryce is a third generation "Dahlen" involved in the family business.  He enjoys time on the boat on Kalamalka Lake, fishing, skiing and loves playing golf!
COLTON DAHLEN
Project Manager
Colton recently joined our team as one of our project managers and is responsible for the successful scheduling, execution, monitoring and quality control of new home construction and renovation work.  His Civil Engineering degree from University of Victoria will make him a great asset.
Colton joins his brother Bryce as another third generation "Dahlen" joining the family business. He enjoys mountain biking, golf, camping and skiing.
MIKE SANFORD
Project Manager
Mike is one of our project managers and is responsible for the successful scheduling, execution, monitoring and quality control of new home construction and renovation work.   Mike has been with Keith Construction since 2006 and has in-depth technical knowledge of the industry and communicates effectively with all clients.  Mike loves his dogs and spending time with his family.  He loves to watch hockey; especially his youngest son playing University hockey.
DOUG CHMELYK
Project Manager
Doug  is a Journeyman Carpenter and is one of our project managers.  He is responsible for the successful scheduling, execution, monitoring and quality control of new home construction and renovation work.   Doug has hands-on experience and a wealth of knowledge  giving him an advantage in understanding all aspects of the construction process.   Doug has a passion for golf,  loving to play the sport and cheer for Tiger Woods!
Tom Saliken
Project Manager
Tom is a Red Seal Carpenter who, as project manager is responsible for the successful scheduling, execution, monitoring and quality control of new home construction and renovation work. Tom has been with Keith Construction since 2016 and has 15 plus years of hands-on experience in the trade. Tom enjoys spending time with his family and loves to be outdoors either snowshoeing, hiking or exploring the backcountry.
CHRIS NEELIN
Chief Estimator
Chris is our chief estimator and carries out sales work. He graduated with an Architectural Technologist degree from Conestoga College in Kitchener, Ontario in 2008. Chris relocated to Vernon in the summer of 2014 when he joined us. His main duties include sales, cost analysis, material take offs, and full budget creation for the construction proposals. He meets with clients onsite for accurate site analysis and costing.  Chris loves spending time with his family & friends and doing outdoor sports like golf, snowboarding and fishing.
RENEE MCDONALD
Project Coordinator
Renee has been with Keith Construction since 2014. As our project coordinator, she works closely with the clients to help with the selections and timelines, and manages the Builder Trend software program.  She also assists our Project Managers to maintain a smooth schedule during the building process.  She came to Vernon from Vancouver where she worked for a large multi-family residential company for over 20 years.  Renee enjoys spending time on her farm with her horses, cats and her dogs, who are the size of small horses!
CORAL ROSARIO
Draftsperson
Coral is our in house Draftsperson and layout designer for our clients for new homes and renovations.  Coral holds a Bachelor and Master's Degree in Architecture and holds Certification in LEED A.P. Building Design and Construction and Project Management Professional. Bring in your wish list to Coral and she will help to design your dream home.  Coral  relocated to Canada in 2015 from the Dominican Republic and enjoys playing musical instruments and walking her dog Thor.
MICHAEL THOMPSON
Junior Estimator
Michael is our junior estimator who has brought in a lot of energy and high spirits to the sales team. He studied business at the University of Calgary and found a desire to make a career in the construction industry. He was born in the Okanagan but has spent the majority of his youth in Asia and Australia. He assists in compiling all bid packages and meets directly with clients and trades on site to review scopes and walkthrough conditions for new build and renovation construction. He is an avid Arsenal FC supporter and enjoys spending time playing football or going snowboarding with his friends.
DANIELLE WILSON
Office Administrator
Danielle joined Keith Construction in the Fall of 2020. She and her family moved from Calgary to Coldstream in the Summer of 2016, to live where they used to vacation!! Previously, Danielle was the Office Manager at two different Construction firms from 2007 – 2016. She brings a wealth of knowledge to the team and looks forward to the opportunity to help Keith Construction grow for many years to come.
Danielle and her husband have 3 children and 2 dogs (Lusie & Layla). She cherishes time spent with family & friends. In the Winter you'll find her up at Silver Star and in the Summer she spends as much time as she can in or on Kalamalka Lake.
CHERYL ROBERTS
Lead Bookkeeper
Cheryl has been a bookkeeper for 15 plus years and has a Business Administration Diploma in Accounting, along with being a Payroll Compliance Practitioner with the Canadian Payroll Association. Cheryl has recently taken up bike riding and loves travelling in their RV.
Contact Keith Construction for a FREE Consultation
We enjoyed working with the whole team throughout the process and were exceedingly happy with the final outcome. We first hired Keith Construction in 2013 to build our summer home in Coldstream BC.  The design, estimating and construction phases all went very well.  We enjoyed working with the whole team throughout the process and were exceedingly happy with the final outcome.  The team...
Kidd
We could not be happier in our new home. We could not be happier in our new home. While this was not our first custom build, it certainly was the most enjoyable as we were involved throughout the process. We brought our ideas and budget, and their drafstsperson was able to come up with the design we were looking for. We found every trade to be experienced and very professional craftsmen...
Keech
He always provided creative suggestions and good ideas when we had difficult decisions to make After many years of planning our retirement home, we chose Keith Construction to put those plans on paper and to construct the home of our dreams. From the inception of our house design through the construction phase, our experience with Keith Construction has been nothing but positive. The staff ...
Hemrick
They listened carefully to our ideas and they were diligent in providing workable solutions. In 2016 we engaged Keith Construction to create a new outdoor living and entertainment space at our home. Their professional, knowledgeable and helpful staff guided us through all the stages of the project, including discussion of our requirements, creation of detailed computer models, cost estimation...
Herring
We were in good hands! It was a great experience working with Keith Construction's wonderful team. They are very approachable and answered any and all questions we had. Being the second time we had built a house, it was a very different experience than our first. We were far more involved, which was great as we learned a lot and were a part of the entire process. We really enjoyed it! We...
St. Hilaire
You always hear about the horror stories from others when building a new home, but this is not one of them.   Being this was my dream home and first experience with a build, I wanted a contractor  I could trust, that would complete the project with quality and value in mind.  From the early stages of design through project completion, I felt I was in good hands with Keith Construction....
Spitzmacher
Our experience with Keith Construction, their staff and subcontractors can be summed up as "OUTSTANDING". From the concept of our major renovation to the finished project Keith Construction demonstrated their ability and depth to work with us to achieve what we envisioned to be our perfect dream home. Thank you Keith Construction!
Ward
Approaching every situation with a pleasant and professional demeanor We are very pleased to offer a letter of recommendation for Keith Construction. No one at the original groundbreaking ceremony February 2014 believed that just over eight months later October 2014, that our home had gone through such a total transformation. The entire Keith Construction crew and their subcontractors were...
Allen